WATCH FOR DAMASCUS DESTRUCTION VERY SOON AS FOUR UNDERSEA COMMUNICATIONS CABLE
COMPLETELY CUTTING IRAN OFF
FEB 1 2008
THIS IS A VERY SERIOUS EVENT WATCH FOR THE ATTACK AT EVENING TIDE IN ISRAEL TIME ON DAMASCUS AND IRAN THEN THE NEXT AFTER NOON WHILE THEY ARE SAYING "PEACE AND SAFETY" IN ISRAEL SUDDEN DESTRUCTION COMES UPON THEM AND A GLOBAL NUCLEAR WAR WILL HAVE BEGUN.
CLIP FROM BELOW = "I am greatly concerned that these undersea cable cuttings are intended to prevent the world from seeing something that is about to happen..."
Third Middle East Undersea Cable Cut - Feb 1
Third Cable Outage Hits Middle East - Feb 1
---
TELL EVERY ONE YOU KNOW THEY NEED TO REPENT AND ASK GOD INTO THEIR HEARTS TODAY OR BURN FOR A MINIMUM OF 70 YEARS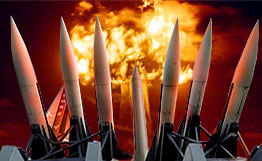 ---
They carry 70 percent of voice traffic to the West so no one will know when nukes have been used on Damascus and Iran
---
Middle East Internet Blackouts Spur Geopolitical Suspicions
Bloggers says big event could be right around the corner, Iran completely cut off
Unprecedented mass Internet outages throughout the Middle East and Asia after no less than four undersea Internet cables were cut without explanation are spurring suspicions that a major event of geopolitical proportions may be just around the corner.

Internet blackouts are impacting large tracts of Asia, the Middle East and North Africa after four undersea cable connections were severed. Egypt, Saudi Arabia, Qatar, the United Arab Emirates, Kuwait, Bahrain, Pakistan and India, are all experiencing severe problems.

According to InternetTraffic.com, Iran has been completely cut off from the Internet, though Mahmoud Ahmadinejad's blog can still be accessed.

Most notably, Israel and Iraq are unaffected by the outage.

"Stephan Beckert, an analyst with TeleGeography, a research company that consults on global Internet issues, said the damaged cables collectively account for the majority of international communications between Europe and the Middle East," reports CNN.

Officials say that the cause behind the severing of the cables remains unknown, but United Arab Emirates' second largest telecom company said the cables were cut due to ships dragging their anchors.

Is this a pre-cursor to throw a veil over an imminent staged event in the Middle East?

"What are the odds? Who benefits? asks the Crimes and Corruptions blog. "Let's see. Iranian rapprochement: "Recent months have brought signs of a growing rapprochement between Iran and Egypt."

"What nation would not like this and has subs which could cut the cables? Why do it? Payback as over the net business is badly damaged. Or is this a setup for more? Note the internet is working just fine in Israel."
Over at WhatReallyHappened.com, Mike Rivero points out that the mysterious cable sabotage could portend another imperial Neo-Con crusade in the works.

"The biggest problem the Bush administration faced during Iraq were images coming over the internet that showed the horrors being visited on the Iraqi people, and exposed the government's lies about Saddam," he writes.

"I am greatly concerned that these undersea cable cuttings are intended to prevent the world from seeing something that is about to happen, other than through the government-controlled propaganda/media."


---
India, Middle East Suffer Internet, Phone Disruption (Update3)
Feb 1 2008

By Camilla Hall and Bibhudatta Pradhan

Jan. 31 (Bloomberg) -- India and countries across the Middle East experienced slow Internet connections and disruption to international calls to the U.S. and Europe after two submarine cable systems in the Mediterranean Sea were cut yesterday.

Repairs to the break, which may have been caused by a ship's anchor near Alexandria, northern Egypt, will start on Feb. 4, a spokesman for Flag Telecom Group Ltd., which operates one of the cables, said by phone from Mumbai today. Customers are being provided with alternatives through other cables, he said.

The cable breaks have cut capacity by more than half for some Web access and telephones companies in the affected regions. They carry 70 percent of voice traffic to the West, according to Orascom Telecom Holding SAE, the biggest mobile-phone company in the Middle East and North Africa. Stock trading in Egypt and phone calls from as far away as the U.S. have been disrupted.

``Everyone is trying to absorb the shock, and is trying to deal with it'' by using alternatives, said Joseph Metry, network supervisor at Orascom Telecom.

The two cables are 400 meters (1,312 feet) apart and the second is operated by SEA-ME-WE-4, according to Emirates Integrated Telecommunications Co., which is United Arab Emirates' second-biggest mobile-phone company and is known as du.

``Flag and SEA-ME-WE4 have activated their emergency repair process,'' du said in an e-mailed statement today. ``Given the proximity of the two systems, it is likely that one ship will do both repairs.''

Indian Call Centers

Flag is delivering a better service today, though services aren't running as usual, the Flag spokesman said. Du said it has re-routed international outbound voice traffic on other available routes and secured more capacity for Internet access.

``The majority of our IT companies, BPOs and call centers which are using the Atlantic route for dialing to the U.S. East Coast have been badly affected,'' Rajesh Chharia, president of the Internet Service Provider Association of India, said by telephone from New Delhi today. Flag Telecom's cable ``has lost 50 to 60 percent capacity,'' he said.

Customers will notice some congestion during peak hours, and accessing overseas Web sites will still be slow, said Joseph Metry, network supervisor at Orascom Telecom. Egyptian national calls and Web sites weren't affected, he said. Traffic is being carried through another cable in Suez and Telecom Egypt is trying to boost capacity from 25 percent to 75 percent, Metry said.

``Now, I believe, all the Internet service providers have partial access to the Internet, but at a quarter of their capacities,'' Metry said.

Trading Hit

``Our trading capacity has been hurt by the slow Internet connection,'' Mohamed Ashmawy, a trader at Commercial International Brokerage Co., said via phone from Cairo. ``We don't have access to some trading platforms, so we can't execute client orders through the usual messaging systems.''

Flag is owned by Reliance Communications Ltd., India's second-largest wireless carrier, whose chairman is billionaire Anil Ambani. SEA-ME-WE-4 is owned by a group of 16 international telecommunications companies, according to its Web site.

``Only 10 to 15 percent of our connectivity with the international gateway faced problems,'' Anil Kumar Jain, deputy director general of state-run Bharat Sanchar Nigam Ltd., India's largest telecommunications carrier, said by telephone from New Delhi today.

Phone Company

Customers of San Antonio-based AT&T Inc., the biggest U.S. phone company, have been affected, spokesman Michael Coe said yesterday. AT&T is part of the group that owns one of the cables, Coe said.

Some customers of New York-based Verizon Communications Inc., the second-biggest U.S. phone company, were affected by the cable break, spokeswoman Linda Laughlin said yesterday. Verizon also co-owns one of the cables as part of a group of carriers, and the companies pay regular maintenance fees that will cover the cost to repair the cable, Laughlin said.

Coe and Laughlin said yesterday they didn't know how many clients were affected.

Bahrain Telecommunications Co., which holds the franchise to provide all of Bahrain's public telecommunications, said in an e- mailed statement yesterday that ``Internet services will still be available but at a degraded speed during peak hours.''

Egypt's Ministry of Telecommunications said yesterday it formed an emergency team to bring back the service.

Prophecy News - End times Prophecy News for Russia, China, Iran, Bush, World, America, Iraq, Syria, North Korea,
PLEASE SIGN UP AND ADD THESE FREE ADVERTISERS TO YOUR SITE

Please rate this site at Just4Christ Top 50 Christian Sites