SYRIAN ARMY REINFORCES MILITARY PRESENCE ON LEBANON BORDER PREPARING FOR WAR WITH ISRAEL
MAR 19 2008
NATO fighters scramble again to intercept Russian Bear bombers - MAR 19
Security forces fear double Hezbollah revenge attack in Israel, abroad - Mar 19
US Military Option on Iran Is Back on the Table - Dick Cheney - Mar 19
Russian Bear bombers to hold exercises in Far East - Mar 19
This war looks to be set to unfold this Saturday 22 nd or Sunday 23 rd all by Catholic Jesuit design.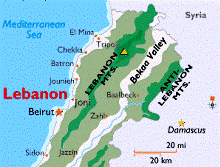 Lebanese sources have revealed that the Syrian army is reinforcing its military presence along the Lebanese Syrian borders point from the western Bekaa valley area to Deir Al Ashaer.

The sources linked the military reinforcement to increased speculation inside and outside Lebanon about the possibility that Lebanon will be lured into a war with Israel, which could be triggered by Hezbollah in retaliation for the assassination of its commander Imad Mughniyeh.

The sources said Damascus action is aimed at preventing Israel from attacking the Syrian territory .

According to war analysts, any action by Israel will be in response to Hezbollah's attack on it or any place in the world.
Israeli response the analysts say will have specific objectives in quality and quantity ... stressing that such operations will target all Hezbollah bases in the Western Bekaa, which have been strengthened after the war of July 2006.

The analysts said that the western Bekaa contains the main operations of the party, which were established with Iranian funds and include educational and medical institutions and service facilities , all of which will be the targeted by Israeli .

According to Lebanese sources, Hezbollah chief sayyed Hassan Nasrallah is reviewing carefully all the security an military organs of the party after the assassination of Mughniyeh , in preparation for the next battle with Israel . All of this is preparation is being done in coordination with Iran communication with Iran.

Lebanese experts believe that the options of war and peace are equal. Tipped one over another depends on the type of retaliation by Hezbollah for the assassination of Mughniyeh .
The experts noted that the citizens of the south of Lebanon are now living in a state of panic and many have renewed their passports to flee if a new war breaks out.


According to Israeli intelligence sources Hezbollah has completed its military preparations in order to execute its retaliatory action against Israel and the countdown for such an operation has already started .


This is why the Israeli sources have pointed out is the reason why Tel Aviv has issued a warning to Damascus in which it holds the Syrian leadership responsible if Hezbollah launched any attacks on its territory or its interests around the world.
The sources stresses this warning is a direct threat that Syria will be attacked if Israel is attacked from the Lebanese territory.

A British government source responded to a question about the possibility of an Israeli attack on Syria if Hezbollah attacked Israel, saying: "There is always a big danger of such a development if Israeli northern borders are attacked noting that this will be a catastrophe," .
The source added " Hezbollah retaliation for the assassination of Mugniyeh could lead to a much wider regional conflict.

Syria's role in Assassinating Mughniyeh

Mughniyeh's widow, an Iranian national, who was in Damascus at the time her husband was assassinated accused the Syrian regime of involvement in the murder.

"The Syrian traitors assisted in my husband's murder," said Mughniyeh's widow.

She added "This is why the Syrian regime has refused the help of Iran and Hezbollah in the investigation of the murder."

Syria's Foreign Minister stated after the assassination that "only Syria will investigate the murder and it will be a very simple and straight forward investigation and we will find the perpetrators within days."

The General Secretariat of the Damascus Declaration also accused Monday the Syrian regime of involvement in the assassination of Mughniyeh

A statement issued by the Damascus Declaration headed by former MP Maamun al-Homsi stated: "It is our duty to expose the crimes of the Syrian regime and specifically the killing of Imad Mughniyeh and the deception that accompanied this crime."

The statement added the "Syrian intelligence removed the car in which Mughniyeh was assassinated and cleaned completely the scene of the murder to remove all the evidence."

According to intelligence reports Assef Shawkat, Syria's top intelligence chief and the brother-in-law of Syrian president Bashar al Assad is behind the assassination. Shawkat is married to Basha's sister Bushra. Bushra has left Syria and is now living in Paris.

The intelligence reports claim that Hezbollah has not retaliated earlier for Mughniyeh 's assassination , because it is currently investigating Syria 's role in the murder .

Hezbollah according to these reports has been questioning many Syrians in Lebanon who knew the whereabouts of Mughnieh before he left for Damascus where he was assassinated on February 12.


Tags: Bekaa Valley, Hezbollah, Israel, Lebanon, Syria
Prophecy News - End times Prophecy News for Russia, China, Iran, Bush, World, America, Iraq, Syria, North Korea,
PLEASE SIGN UP AND ADD THESE FREE ADVERTISERS TO YOUR SITE

Please rate this site at Just4Christ Top 50 Christian Sites