What Preparations Can I Make for a Global Nuclear War ?
Clip from below - * LENGTH OF TIME IN HIDING: BBC staff were told to stay in shelters for 14 days before it was safe to leave. It was estimated that it took this long for radioactive particles to decompose.
Extra note = Nuclear experts here in North America warn that all cities over 10,000 people are targeted by Russia = Canada, U.S., Mexico at the same time.
I imagine that would be the same across the globe. God only knows for sure pray to Jesus for the Answer.
---
I am not for RadDetect or Nukalerts products more than the other I am just informing you as to the option that
I believe you need to keep your family and you safer in this event that scripture has clearly described will happen .
# 1 THING IS TO BUY A RADIATION DETECTOR

$129.99
$119.99 (Buy 2+)

2 x $40.00(each) 2bl buckets of protein (See picture below from Costco or Wal-Mart) and 1 X 25 kg bag ($25.00) of Quick Oats will sustain your life for two months for under $110.00 per one person . No quality of life with just this for food so use this as your base plan and add to it as soon as you here Damascus has been destroyed in this coming war and get prepared to leave the Cities fast as they have a depopulation plan through the Vaccination program that could start very soon even before this attack happens so Watch. Be very aware of this event scheduled to happen right after Damascus destruction = Project Blue Beam the false holographic second coming of jesus which will be the rise of the Antichrist to power in Jerusalem.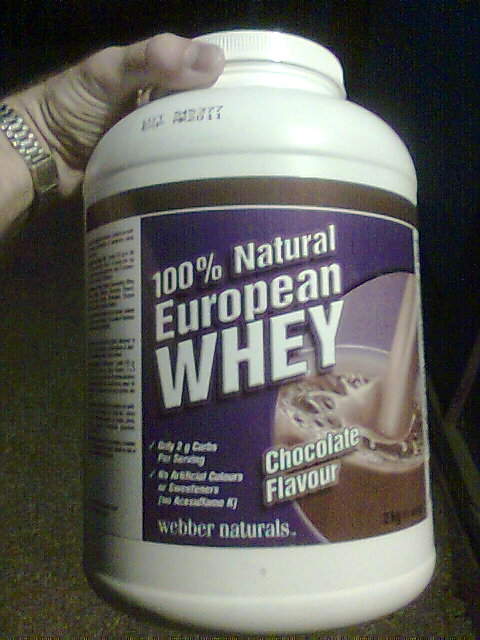 This picture doesn't do the size much justice it is a big container of Whey protein = 2lb.
The last time I went to Costco they were out of this brand but almost all $40.00 Whey protein will work.
I find this one needs something added with flavour to make it taste better but in order to keep from dieing it easily works.
I have been living off of it every day for the past three months Today = Sept 11/09 and weight lifting 4-5 days a week so I am telling you it works as it makes up at the least 85% of my daily diet every day.
FLEETS AMASSING IN PERSIAN GULF TODAY OCT 6 2006 WITH ORDERS TO USE NUCLEAR WEAPONS ON DAMASCUS AND IRAN . READ WORLD NEWS LINKS.
RUSSIA WILL NUKE U.S. AND ISRAEL WITH THE SAME WARNING FOR ANYONE
WHO TOUCH'S THEIR ALLIES - FEB 7 2008
THIS WILL BE ARMAGEDDON = EZEKIEL 38/39 AND ISAIAH 17:1-7
DAMASCUS DESTRUCTION
ISRAEL SAYS PREPARE FOR WAR - FEB 3 - 2008
WATCH FOR DAMASCUS DESTRUCTION VERY SOON AS FOUR UNDERSEA COMMUNICATIONS CABLE CUT COMPLETELY CUTTING IRAN OFF - FEB 2 - 2008
---
NUKALERT'S products and their claims of the necessity of these devices in the event of a Global Nuclear War . http://www.nukalert.com/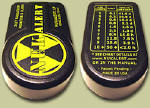 Watch this Google video and you will then understand why a container (see pictures below) of any size would be the safest fallout shelter .
http://video.google.com/= basement core shelter video - 7 min 56 sec - 3-Oct-2006
Human beings cannot feel, smell, taste, hear, or see fallout radiation.
WHAT TO DO IF A NUCLEAR DISASTER IS IMMINENT- NUKALERTS INFO PAGE
---
In the event of a nuclear war one must consider 3 important factors.
The kit should include the following items:
A flashlight with extra batteries

.

A portable radio with extra batteries

.

Bottled water

.

Canned and packaged food

.

A hand-operated can opener

.

A first-aid kit and essential prescription medications

.

Personal items such as paper towels, garbage bags, and toilet paper

.

Winter cloths as the sun will be completely blocked for 3 days and 3 nights = no sun no heat.

The body can last up to six weeks without food, but only a week without water.
Drinking soda is actually counterproductive. Any caffeinated beverage is dehydrating.

Plan to protect all your computer equipment from the imminent electromagnetic pulse that will certainly be a part of any attack today.

The threat to your electronics is not fully understood and may be over blown but plan for the worst and pray for the best.
See more elaborate design pictures here:
http://www.disastershelters.net/shelters
http://www.f-5stormshelters.com/
A reinforced container that is buried with no metal parts showing out of the ground would be, from what I have researched, the best and safest way to protect your electronic equipment and your selves from being severally harmed. You can find, if you look hard enough, Used shipping containers start at around $2,000.00 CDN for a 40 foot reinforced container. You can find them smaller according to your needs. You would be able to put a large water container and all the supplies you will need to survive at the minimum 8 days and maximum 16 . If you have the opportunity you could place a 4 by 4 truck inside as well 40 feet is long enough to get your basic necessities stored as this Global nuclear war that is about to happen starts with a massive earth quake that will move the earth and may even be when the earth flips it's Axis = Axis will flip page. Just taking all electronics out of a vehicle you would want to save so that at minimum it would run for you and placing it into a sealed metal container that you would bury would be the minimum you should do or think about walking every where you go as this disaster is definitely described as effecting the entire world. Always remember that these instructions are meant mostly for the true believers in Christ as you can run but you can't hide from the Wrath of God. The Lord does say that all who heed these warnings and believe there will be a nuclear war should run and they will save their soul . This means they will not escape getting burned by the radiation but they won't die before they would get a second chance to repent and change their ways = save their soul. 1/3 die in the fire and earthquake and 1/3 die after of pestilence and famine after the Global nuclear disaster so it will be bad.
Plan for the worst and pray for the best as at the taking of Babylon " all " the mountains
are moved out of their places . This may mean all the continents .
BBC plan for surviving nuclear Armageddon Feb 25 2006
* THE KILLING ZONE: Staff living within a distance of about 30 miles downwind who escaped an initial blast would die from radiation effects.
* RADIATION SICKNESS: Gamma rays would gradually destroy individuals' white corpuscles. Cuts or bruises would become septic and colds would not get better. The only cure was careful nursing.
* BUILDINGS: Full protection would be provided by two to three feet of earth or equivalent screening by bricks, concrete or sandbags. A well-built house would provide only 20 to 40 per cent protection as rays would penetrate roofs.
* LENGTH OF TIME IN HIDING: BBC staff were told to stay in shelters for 14 days before it was safe to leave. It was estimated that it took this long for radioactive particles to decompose.
* EVACUATION: It was doubted whether evacuation before fallout arrived would have been possible.
---

Why iodine is important to the thyroid gland
The thyroid gland takes iodine from the bloodstream and uses it to make thyroid hormones. Without the required amounts of iodine, the thyroid will not be able to make these hormones. Most of the iodine in people's bodies comes from the food they eat.
Should I Take Potassium Iodide During a Radiation Emergency?
Potassium iodide (KI) should only be taken in a radiation emergency that involves the release of radioactive iodine, such as an accident at a nuclear power plant or the explosion of a nuclear bomb. A "dirty bomb" most likely will not contain radioactive iodine.
A person who is internally contaminated with radioactive iodine may experience thyroid disease later in life. The thyroid gland will absorb radioactive iodine and may develop cancer or abnormal growths later on. KI will saturate the thyroid gland with iodine, decreasing the amount of harmful radioactive iodine that can be absorbed.
KI only protects the thyroid gland and does not provide protection from any other radiation exposure.
Some people are allergic to iodine and should not take KI. Check with your doctor about any concerns you have about potassium iodide.
The Food and Drug Administration (FDA) recommends that KI be taken as soon as the radioactive cloud containing iodine from the explosion is close by. KI may still have some protective effect even if it is taken 3 to 4 hours after exposure to radioactive iodine. Because the radioactive iodine will be present in the initial blast and decays quickly, a single dose of KI may be all that is required. The FDA recommendations on KI can be reviewed at Potassium Iodide as a Thyroid Blocking Agent in Radiation Emergencies.
For more information about preparing for a radiation emergency event, check the following Web sites:
---
This is what I have prepared for my self in my basement so I can place sand bags and dressers in front of my raised bed for extra protection.
When I see Jerusalem surrounded by the Northern armies, Syrian controlled Hamas, I will then place my mattress under the frame on the ground and load up the box spring with sand bags and lead plates used in roofing . I already have enough supplies to last the fourteen days I believe it will take for the radiation to dissipate to relatively harmless dust. The card board around the log is to protect my body from the rough edged on the wood from the branches. large garbage can filled with water and boxes of canned food will keep me healthy until I can find more of both . I am fortunate in that I have a well . I just need to create power if there isn't any. I hope this give you some ideas of how to start your own plan as the northern (Hamas) armies are warning of their intentions to take over Ashkelon and Ashdod March 1 2008 fulfilling Zephaniah 2:4 For Gaza shall be forsaken, and Ashkelon a desolation: they shall drive out Ashdod at the noon day, and Ekron shall be rooted up.
Make sure you have asked the Lord forgiveness for your sins and ask him into your heart as you can run but you can't hide from him.


Freeze Dried Food
Survival Kit, 72 hr. Kits
Earthquake Survival Kit
Emergency Food Units
MRE's Meals Ready to Eat
Solar+Hand Crank Radios
Great Gift Ideas
Dehydrated & Survival Foods
Flashlights & Lighting
Water FILTERS & Storage
Build Your Own Kit
Potassium Iodide
Water Testing Kit
Astronaut Space Foods
Space Blankets & Shelter
Alert Level: RED
Space Food
Freeze-Dried Ice Cream
1st-Aid & Suture Kits
Lifeboat Survival Supplies
Heat & Fuel Storage
Preparedness Books
Nite-Vision & Miscellaneous
Super Blow-Out Specials!
Terrorism Preparedness
*Surplus Equipment*
Prophecy News - End times Prophecy News for Russia, China, Iran, Bush, World, America, Iraq, Syria, North Korea,
PLEASE FEEL FREE TO ADD THESE FREE ADVERTISERS TO YOUR SITE

Spirit and Truth

Please rate this site at Just4Christ Top 50 Christian Sites