MORE IMPORTANT NEWS EVENTS POSTED FEB 9 2009
Russia provides 10 MiG fighter jets to Lebanon for free - Dec 17
Remember Iran comes with Russia in the global nuclear attack on the West
= Ezekiel 38/39
IRAN DEPLOYS 60 SHIPS FOR MANOEUVRES IN PREPARATION OF THE COMING NUCLEAR WAR WITH THE U.S. AND ISRAEL - DEC 4
U.S. MASSES NAVEL AIR MIGHT AROUND PAKISTAN, INDIA, IRAN - DEC 1
Daniel 8 is unfolding before us !!! breaking of the ram with two horns which is also the
destruction of Damascus = Isaiah 17:1 - 7 We see our maker with our eyes.
ISRAELI MILITARY ON HIGH STATE OF ALERT FEARING HAMAS AND ISLAMIC JIHAD
PLANNING HUGE ATTACK VERY SOON - NOV 19
HIZBOLLAH SAYS THEY ARE PREPARING FOR UPCOMING WAR WITH ISRAEL - NOV 8
BUSH ATTACKS THEM WHILE THEY ARE PUSHING WESTWARD NORTHWARD AND SOUTHWARD
AS THEY ALREADY ARE PUSHING IN ALL THESE DIRECTIONS ....NEW WARS WITHIN WEEKS
PUTIN TELLS IRAN THEY ARE GOING TO BOMB YOU - SEPT 29
CLICK HERE TO WATCH ----> IRAN ATTACK WARNING VIDEOS
HAMAS GETS SET FOR MAJOR ASSAULT ON ISRAEL AT THE SAME TIME SYRIA IS SET TO ENTER LEBANON - OCT 18
PENTAGON PLAN: COMPLETELY DESTROY IRAN'S MILITARY IN 3 DAY STRIKE
FORMER C.I.A. FIELD OFFICER WARNED HE WON'T HAVE TIME TO FINISH
BOOK BEFORE IRAN STRIKE - AUG 22
RICE SAYS U.S. WILL NEVER ALLOW SYRIA TO ENTER LEBANON - OCT 18
ISRAEL ON HIGH ALERT BECAUSE SYRIAN TANKS ADVANCE ON
LEBANON BEQAA VALLEY BORDER - OCT 7
RUSSIA TO HAVE LARGEST LIVE FIRE EXERCISE OCT 6 - 12 NEAR ALASKA - OCT 5
BRITAIN TO PREPARE FOR WORLD WAR 3 AT THE SAME TIME AS RUSSIA SEE BELOW ARTICLE
BRITAIN AND 8 ALLIED NATIONS PREPARE FOR WORLD WAR 3
BRITAIN TO PREPARE FOR WORLD WAR 3 AT THE SAME TIME AS RUSSIA SEE ABOVE ARTICLE

The rumour is that the U.S. will Launch a nuclear attack on Iran and Syria.
Russia has been warning for the last two years that if you attack our Allies we will defend them with nukes.
( Jeremiah 51:46 rumours will come one year then another before this attack 2007 2008 )
Read news links here for proof --> *** RUSSIA IS THE BEAR ***
Jeremiah 51:46 And lest your heart faint, and ye fear for the rumour that shall be heard in the land; a rumour shall both come one year, and after that in another year shall come a rumour, and violence in the land, ruler against ruler.
This financial bailout could lead quickly to martial law, WWIII, civil war, revolution, anarchy, or any number of other possibilities too horrible to mention here. Will there even be an election? TPTB say probably not!
The paper suggested that by attacking South Ossetia, the Georgian President Mikhail Saakashvili had badly damaged a planned U.S. military operation against Iran. Only because Russia destroyed the Air strips.
RUSSIA ATTACKED GEORGIA'S AIR STRIPS TO BE USED FOR ISRAEL'S ATTACK ON IRAN - SEPT 9 This could be why Sept 11 attacks never transpired = Russia foiled the attack plans by destroying the air strips designated for the attacks in Georgia . I can only guess but be happy something has derailed the attacks on Iran and Syria to a later date.
ISRAEL'S SENIOR MINISTERS CONFER URGENTLY ON IRAN AS THE U.S. MASSES AIR-NAVEL MIGHT IN THE MIDDLE EAST WATERS - SEPT 10
WAR SOON = BARAK'S DECISION SOON ON GAZA TRUCE - MAY 30
Remember weeks ago Israeli defence minister Barak said we should not attack until we have exhausted diplomacy (we will soon see) at the same time Olmert says to the Ashkelon residents to "bite your lip" then he said "not for long"
Watch for Israel to gather their troops together fulfilling ZEPHANIAH 2:1 just before the nuclear war.
BARAK STATES WAR MAY BE IN A FEW DAYS TIME AS
NEGOTIATIONS END IN CAIRO FRUITLESS - MAY 26
BARAK IS THE ISRAELI DEFENCE MINISTER YOU THINK HE WOULD KNOW FOR SURE
MASSIVE BOMB ATTACK ON ISRAEL'S BORDER BLOWS OUT WINDOWS IN NEAR BY COMMUNITY - MAY 22
Palestinian suicide truck packed with 4.5 tons of explosives – most powerful ever –
blows up outside Gaza-Israel crossin - May 22
Jeremiah 50:45 ...the least of the flock shall draw them out...
God truly only knows how this will unfold
HIGH RANKING U.S. OFFICIALS MEET TO PLAN MILITARY STRIKE ON IRAN - MAY 7
ABBAS SENDS OUT MASS INVASION OF ISRAEL PLAN IN THE WORKS FOR MAY 14 - APRIL 29
U.S. PALESTINIAN PUPPET LEADER CALLS FOR 3 MILLION PERSON MASS INVASION OF ISRAEL
BY PEACE HE DESTROYS MANY = BUSH
Isaiah 59:19 So shall they fear the name of the LORD from the west, and his glory from the rising of the sun. When the enemy shall come in like a flood, the Spirit of the LORD shall lift up a standard against him.
SYRIA MASSES 3 ARMY DIVISIONS ALONG LEBANON BORDER BACKED BY LARGE GROUP IN LEBANON'S BEQAA VALLEY - MAR 23
HEZBOLLAH OPENLY MOVING FIGHTERS CLOSE TO ISRAEL'S BORDERS - MAR 20
WHEN JERUSALEM IS SURROUNDED BY ARMIES KNOW IT'S DESOLATION IS NEIGH AT HAND - MAR 19 <--NEWS
CLIP FROM ARTICLE---> Teheran believes enough preparations have been made by Hezbollah-Syria-Iran and the time has now come to increase the war around Jerusalem.
Luke 21:20 And when ye shall see Jerusalem compassed with armies, then know that the desolation thereof is nigh.
DAMASCUS DESTRUCTION THEN ARMAGEDDON
Keep your eyes on my World News because
Zephaniah 2:4 For Gaza shall be forsaken, and Ashkelon a desolation: they shall drive out Ashdod at the noon day, and Ekron shall be rooted up.
Looks to be unfolding before our eyes today Mar 1 - 47 missiles over night into Ashkelon with Hamas suggesting Ashdod is next. They will come in like a flood. Hezbollah planning attacks March 24 after their 40 day mourning ends Monday then Armageddon looks to be the next day at noon day as the Peace and safety speeches are being made.
SYRIAN ARMY REINFORCES MILITARY PRESENCE ON LEBANON BORDER
PREPARING FOR WAR WITH ISRAEL - MAR 19
NATO fighters scramble again to intercept Russian Bear bombers - MAR 19
Security forces fear double Hezbollah revenge attack in Israel, abroad - Mar 19
US Military Option on Iran Is Back on the Table - Dick Cheney - Mar 19
Russian Bear bombers to hold exercises in Far East - Mar 19
This war looks to be set to unfold this Saturday 22 nd or Sunday 23 rd all by Catholic Jesuit design.
RUSSIA IS THE BEAR <-- CLICK
RISE UP AND DEVOUR MUCH FLESH Daniel 7:5
Read my Swelling of Jordan page for timing of these events and also my nuclear war preparation page.
We know Armageddon is here on the door step because Satan has just been kicked out of heaven on a Sun day
Lucifer is the false Angel of light and he is worshipped as the Sun god world wide on his Sabbath = Sun day
The great falling away has clearly happened. see the picture
ISRAEL THREATENS DAMASCUS THEY WILL BE HELD RESPONSIBLE IF HEZBOLLAH RETALIATES - MAR 14
DAMASCUS DESTRUCTION SOON
ISRAEL THREATENS LEBANON WITH WAR IN RECENT LETTER - MAR 13
PEOPLE IN LEBANON MOVING FOR FEAR OF THE WAR PREPARATIONS ALL AROUND THEM - MAR 13
Clip from article = Most analysts assume the attacks will take place at the end of the Muslim forty day period of mourning due to end Monday March 24 this is now being reported as the 40 th day of morning. http://www.alertnet.org/thenews/newsdesk/L23560865.htm
Daniel 8:4 Warns they will be pushing at Israel from the North, South, and West when the Western power attacks. I saw the ram pushing westward, and northward, and southward; so that no beasts might stand before him, neither was there any that could deliver out of his hand; but he did according to his will, and became great. DANIEL 8:5 And as I was considering, behold, an he goat came from the west on the face of the whole earth, and touched not the ground: and the goat had a notable horn between his eyes. This horn = kingdom is media = Syria.
Many blind Sun day worshippers (God's Sabbath is Saturday) are saying the Great king of Grecia is a Greek King from Greece but Greece is about 1500 kms from Iran not the whole face of the earth away. It is clearly a Western power. Look on your Atlas it can only come from North America. Bush is the head of the Greek mafia making him the Great King of the Grecian realm . He attacks when Iran and Syria are pushing at Israel in these direction which they have already in our recent past. He will send his bombers across the whole surface of the earth. The day is right in front of us and take note that the ram only become great as he is pushing then his power is destroyed I say this because the this Western king also waxes very great Daniel 8:8 before his powers are destroyed and his kingdom is sent in four direction. The one hour Global nuclear attack comes the day after the U.S. and Israel attack both Iran and Syria then at noon when in Israel they are saying "Peace and Safety" the nuclear war starts. Starting the tribulation period and the time of Jacobs trouble.
Remember this news =
50,000 HEZBOLLAH FIGHTERS HAVE MOVED IN ALONG LEBANON'S
ARMAGEDDON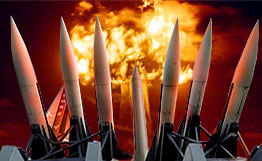 HAMAS WARNS MISSILES TO ASHKELON THEN ASHDOD AFTER THAT = FULFILLING
KING JAMES BIBLE
Luke 21:20 And when ye shall see Jerusalem compassed with armies, then know that the desolation thereof is nigh.
70 Years is determined for the desolation of Jerusalem.
The Least of the Northern Armies shall draw them out = Damascus based Hamas
Zephaniah 2:4 For Gaza shall be forsaken, and Ashkelon a desolation: they shall drive out Ashdod at the noon day, and Ekron shall be rooted up.
Looks to be the Same day as the Colon introduces a list of items related.
Clip from article = Sources in Hamas told WND the group would attempt to continue firing Grad rockets at Ashkelon and will then move on to firing deeper inside Israel. The sources hinted they would next target Ashdod, one of Israel's most important port cities. If they take a port city then they can enter Israel like a flood.
6 MORE U.S. SHIPS BY ITALY STREAMING TO MEET THE 3 THAT REACHED
LEBANON'S COAST YESTERDAY - FEB 29
WARNINGS FROM BOTH ISRAEL AND THE U.S. DAMASCUS BASED HAMAS WILL PAY FULFILLING (Daniel 8:)
U.S. SENDING WAR SHIPS OFF SYRIA'S COAST AS SHOW OF A STRENGTH - FEB 28
Read this a little below it for Syria = fulfilling (Daniel 8:)
'It's a group of ships that will operate in the vicinity there for a while.' The U.S. Navy is sending three warships to the eastern Mediterranean Sea in a show of strength during a period of tensions with Syria and political uncertainty in Lebanon... Another military officer, speaking on condition of anonymity because full details about the ship movements are not yet public, said a Navy destroyer, the USS Cole, was headed for patrol in the eastern Mediterranean and that the USS Nassau, an amphibious warship, would be joining it shortly. The officer said a third ship would go later, but he did not identify it.
The first horn (Daniel 8:) he has between his eyes is Media = Syria and the other one is Persia = Iran.
Bush is the head of the Greek mafia making him the great King of Grecia.
The great King of Grecia = western from the other side of the world from Iran and Syria has to become great after this attack. He waxes very great so maybe the northern armies won't surround Jerusalem until after Damascus destruction... food for thought. Daniel 8:8
ISRAELI DEFENCE FORCE WARNS OF WAR IN NEAR FUTURE - FEB 21
MIDDLE EAST COMMUNICATION CABLES CUTS MAY BE SABOTAGE AS THEY LIE AT GREAT DEPTHS - FEB 20
When these five communication cables to the middle east were cut the U.S. could have easily created a breaker in each line and now await the attack to shut them down again at the flick of a switch. This war can't be to far away or someone could discover them.
FRANCE TO TAKE PART IN TWO LARGE SCALE WAR GAMES IN THE GULF NEXT WEEK - FEB 24
ISRAEL SAYS PREPARE FOR WAR - FEB 3
WATCH FOR DAMASCUS DESTRUCTION VERY SOON AS FOUR UNDERSEA COMMUNICATIONS CABLE CUT COMPLETELY CUTTING IRAN OFF - FEB 2
This Event comes as a snare upon the world. Bush just said they will confront Iran in his state of the union same as before Iraq was attacked.
This day may be dead in front of us that Iran and Syria get attacked.
RUSSIA WARNS EVERYONE THEY WILL DEFEND THEIR
ALLIES WITH NUCLEAR WEAPONS - JAN 30
Syria and Iran are Russian Allies and bush is about to Fulfill Isaiah 17:1-7 = Damascus destruction
It comes as a snare meaning we can't get out of it once Damascus gets destroyed we are committed to disaster.
THE SOON TO COME NUCLEAR WAR IS BEING PREPARED TODAY <- CLICK HERE
Luke 21:20 And when ye shall see Jerusalem compassed with armies, then know that the desolation thereof is nigh.
RUSSIA'S THREAT OF NUCLEAR OPTION INCLUDED REFERENCE
TO DEFENDING IRAN AND SYRIA - JAN 25
Remember what happens to Damascus happen the next day at noon to our nations as they, in Israel, are saying "peace and safety" sudden destruction comes upon them and a global nuclear war = the first trumpet and the start of Jacobs trouble (our nations) will have begun.
The first trumpet is about to sound = The first angel sounded, and there followed hail and fire mingled with blood, and they were cast upon the earth: and the third part of trees was burnt up, and all green grass was burnt up.
This can only be nuclear! Ezekiel 38 is about to be fulfilled as the U.S. and Israel are and have been planning an attack on Iran and Syria with nuclear weapons for a long time. Ashkelon looks to be the next target and this scripture maybe the next to be fulfilled = Zephaniah 2:4 For Gaza shall be forsaken, and Ashkelon a desolation: they shall drive out Ashdod at the noon day, and Ekron shall be rooted up..... God only knows for sure...I can only tell you what I see.
Ezekiel 38:4 And I will turn thee back, and put hooks into thy jaws, and I will bring thee forth,.....
The Cuban Missile crisis Russia was turned back and now they clearly are being forced to fight because of all the threats closing in on their borders and their allies Iran and Syria and they have been openly preparing for a nuclear war with the West. This is what is prophesied will happen to Jacob bringing in the seventy years of Jerusalem's desolation to bring an end to sin read it here =
Prophecy News - End times Prophecy News for Russia, China, Iran, Bush, World, America, Iraq, Syria, North Korea,
PLEASE SIGN UP AND ADD THESE FREE ADVERTISERS TO YOUR SITE

Please rate this site at Just4Christ Top 50 Christian Sites